Change language
This web page is only available in english language.
AWARDS
OTHER PAPERS
BIOGRAPHY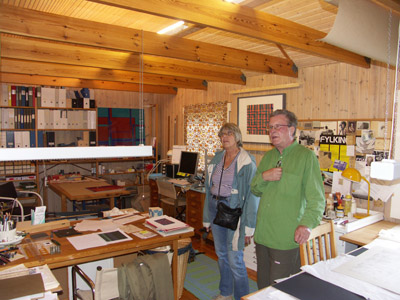 Swedish composer and visual artist Lars-Gunnar Bodin was a pioneer of electro-acoustic music and text-sound compositions, who also educated through teaching and through radio presentations, was an integral part of electronic music's presence in the Fylkingen society, and was director of the Electronic Music Studio (EMS). Bodin's early works and his involvement — which includes three years as Chairman — in Fylkingen (a society for the promotion of new art forms since the '30s) were crucial to the development of electronic music in Sweden. The Stockholm-born composer studied with Lennart Wenström during the last half of the '50s and first became involved at the Fylkingen society in the early '60s. Bodin was already using computer processing in his visual art when he met up with Göran Sundqvist; the process improved as the two collaborated during the '60s and their work was part of the L´Artiste et L´Ordinateur exhibition. With fellow Swedish composer Bengt-Emil Johnson, Bodin began staging concerts and festivals of text-sound composition — works of music in which language and voice are used for their sound, not their meaning. He and Johnson were among the first to write in this mode, along with Sten Hanson and others. One compilation documenting their work is The Pioneers: Five Text-Sound Artists (Phono Sueco, 1992). Bodin wrote electro-acoustic music, instrumental theater music, multimedia works, compositions utilizing tape in live performance, and the text that he used in many of his pieces. Two notable works are "Commenting on Traces I" (1970), and "In Clouds" (1972-1976). Lars-Gunnar Bodin was composer-in-residence at California's Mills College in 1972, and became the Director of Stockholm's EMS in the late '70s.
(by Joslyn Layne)




As a composer Lars-Gunnar Bodin was mainly active in the Electroacoustic Music area or Acousmatic Art - a term he thinks is more appropriate for his work. With a rather traditional training in music, he has also composed several pieces for instruments alone, or in the so-called "Mixed" category where traditional instruments are used together with electroacoustic sounds on tape and/or being transformed by electroacoustic means. In parallel with his work in the "Sonic Art" field, he has also been involved in the visual arts and poetry.
In the early sixties, he was influenced by John Cage and his ideas. He also had the privilege of performing together with Cage and David Tudor at several occasions, events which had paramount importance for his future development as an artist. He became deeply interested in "Concrete Poetry" during the same period, and the art of "composing" texts has ever since been in focus throughout his artistic career. Together with Bengt Emil Johnson, he coined the term "text/sound-composition", a term which has received international recognition. As a text/sound-artist he has been greatly influenced by Öyvind Fahlström's concrete poetry (Fahlström, the "originator" of the term concrete poetry)

Bodin`s artistic production has frequently been influenced by ideas and phenomena in parapsychology, science fiction and the natural sciences. An exception is the early piece, "Semicolon; Den heter ingenting, den heter nog Seance 2" (1965), Bodin has composed all text material for his works. He has combined music and visual elements in various compositions, for example "Clouds" (1976), a full evening mixed-media work for dancers, singers, film projectors, slide projectors and 8-channel tape.
Bodin has also composed numerous works for the medium of radio. His compositions "For Jon - fragments of a time to come" (1977), "Wonder-Void" (1990), "Bobb, the lifemanager" (1997) and "The Lipton Adventures" (2002) were commissioned by the Swedish Radio Corporation as its entries in the "Prix Italia" contest respective years.
Science fiction elements and themes play an important role in the first two of these pieces, in the third and fourth work, issues of existentialism are more predominant. Major works from the 1990s are "Divertimento for Dalle (1991), "Best wishes from the lilac grove"(1994) and "Mare Atlantica" (1995), "Gyzo" (1997). "Mare Atlantica" was commissioned by the "Ultima" festival and Gyzo was commissioned by CDMC in Madrid. Another major work of his is "Jenseits von Licht und Dunkel" (2001), commissioned by the "European Music Month" in Basel.
He was honoured the Magisterium Prize (1996) in Bourges, France, and has also received several commissions from IMEB: among others, "Epilogue", "Memoirs….", "Dizcour", "Anna", "Les Mécanismes des Temps Perdus" (2005). Bodin's artistic oeuvre is available on various record labels including Folkways, Fylkingen, Mnemosyne/IMEB and Wergo.
(Source: www.IMEB.net)
.
Having received musical education in the sphere of Composition and Jazz, and being an artist at the same time, he has been involved in the experimental music and poetry since the early 1960s. Musical courses which he took in Darmstadt (courses delivered by Stockhausen and Ligeti, 1961) and impressions of J. Cage's music focused his own creative interests on the frontier sound and verbal area, that was later named Text-Sound Composition (the term was coined in collaboration with B. E. Johnson, later it was internationally accepted). In 1962 he was one of the founders (member of the Board in 1962-69, President since 1969 till 1972) of the "Fylkingen Society for New Music and Intermedia" (Stockholm), – one of the key phenomena of the experimental-poetic and musical art in Sweden. Being an active member of the "Fylkingen" group he worked much with the combined text, making use of various musical and visual elements (for instance, dancers, singers, film- and slides- projections, 8-channel sounding and other effects were used in the intermedia- composition "Clouds," 1976). His works "For Jon-fragments of a time to come" (cantata for radio, 1977) and "Wonder-void" (music-dramatic composition for radio, 1990) were presented by the National Swedish radio at the international contest Prix Italia as representing Sweden. He is the author of numerous radio pieces, his works were broadcast by dozens of radio stations, including the Swedish Radio, Belgian Radio, WDR and many others, and were issued by numerous recording studios, such as Wergo and Folkways. Since 1971 till 1977 he was a member of the Board of the Swedish Composers Union, since 1978 – a member of the Royal Academy of Music, and since 1982 till 1990 – a member of its Chairing Council. For ten years Bodin was director of the of the Institute for Electro-Acoustic Music (1979-89), he was a member of the Managing Council of the State Institute for Nationwide Concerts (1976-82), and he was also one of the founders (1982) and a member of the Chairing Council of the UNESCO International Confederation of Electro-Acoustic Music (1982-92). He taught Musical Theory and Composition at various educational institutions in Sweden and abroad, including such as Mills College (California, USA), Musikhögskolan (Stockholm), Swedish Institute for Electro-acoustic Music (Stockholm), Dartmouth College (Hanover) and so on. In 1987 he was elected Honorary member of the SEAMUS (The Society for Electro-Acoustic Music, USA). In 1978-92 he 12 times was a jury member of the International Electro-Acoustic Music Competition in Bourges (France), since 1993 till 1995 – a jury member of the International computer music competition at the Ars Electronica in Linz (Austria). He is the holder of various awards and prizes, including The Hilding Rosenberg Prize (nomination "composer," 1984), The Stockholm Town Award (nomination "artist," 1986), The Magisterium Prize (Bourges, France, 1996). One of his recent works – a composition "Bob, the Life Manager" (1997) was selected by the Swedish radio for the International contest Prix Italia to represent Sweden. Lars-Gunnar Bodin lives and works in Stockholm (Sweden).
(Source: NCCA Kaliningrad Russia)